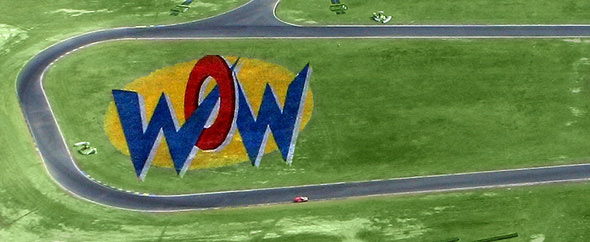 A few of the more creative brands have jumped on board the Google Earth bandwagon and have used the tool as a very clever marketing device gaining maximum exposure here on earth and possibly beyond!
Several companies including Target, Ford, Maxim Magazine and KFC have used various large surface areas ranging from rooftops to the Las Vegas desert, as a platform to advertise their brand. These advertisements have unlimited potential with the audience they can reach through viral media and Google Earth searches alone.
GrassAds has been involved with numerous clients who are after a big impact and a big company logo. Our robotic technology has drawn huge companies logos on a wide range of open surfaces such as racetracks, sports fields and even flight paths. With the added benefits of aerial photography and Google Earth, it really does proove that the sky is not the limit to reach an audience!
To receive all of GrassAds up-to-date news feeds, make sure you 'Like' our GrassAds facebook* page.