It was a busy day on campus today at the Gold Coast campus of Griffith University with the announcement of their affiliation with the 2018 Gold Coast Commonwealth Games.
Special guest speaker Commonwealth Games Minister, Kate Jones praised the involvement of Griffith University who will not only be acting as a venue for some of the events, but will also be providing training facilities for the athletes who will be staying in the athletes village across the road from the University. The village is expected to hold up to 6000 officials and athletes.
The other big announcement was the offer of 250 internships which will be available to students throughout areas such as programming planning, physio, events organisation, sports management, human resources and business.
Griffith University will be beginning construction on an Olympic sized swimming pool for the Commonwealth Games which will remain after the games for the use of students.
GrassAds was privileged to be invited to create a memorable visual display on the athletics track for the VIP guests to see.  The 2018 Commonwealth Games logo was proudly displayed by the side of the Griffith University logo which has been used in this format throughout the launch event.
The logo layed 95x35 meters in size and added a fantastic atmosphere and talking piece for the event.  Every news station on the Gold Coast attended the event with all networks giving extensive coverage to the 3D logos on the sports field below.  Click here to view the coverage from the Ten Network. The logos were converted to 3D through our software technology and were specifically tailored to the viewing platform of the Medical building 8 stories up where the event was held.
If you would like any information about how GrassAds can boost your PR event, contact us today.
[one_third]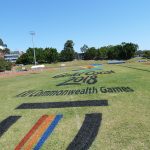 [/one_third][one_third]  
[/one_third][one_third_last]  
[/one_third_last]
[one_third]
[/one_third][one_third]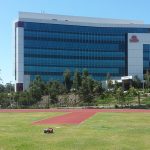 [/one_third][one_third_last] 
[/one_third_last]